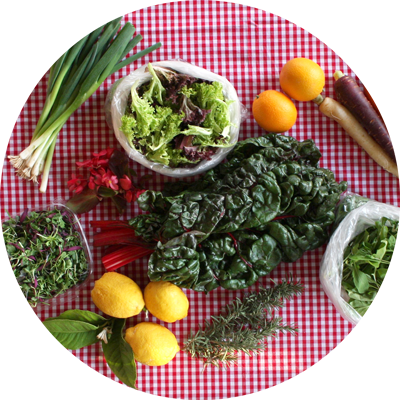 Support the Gardens through a shared risk, shared reward program
A limited number of fruits, vegetables and other food grown at the Queen Creek Botanical Gardens will be available via a prepaid weekly subscription for an upfront cost of $300 for one of four 10-week subscription periods throughout the year.
Each subscription box contains hand-selected, premium-choice vegetables and fruits.
Each subscription box will contain approximately $30 of in-season produce. However, with Mother Nature there are no guarantees – some weeks subscribers may receive more or less based on weather conditions, growing cycles, and the available harvest. 
Produce is harvested within 48 hours prior to delivery of subscription boxes to pick up locations. After harvest, produce is washed and stored in a cooler. While no synthetic pesticides or herbicides are used, customers are encouraged to wash produce again prior to eating. 
The pre-paid produce subscription box is a type of community supported agriculture (CSA) program – a relationship between growers and community members who share the risks and rewards involved with growing produce. When someone purchases a subscription or "seasonal share" of the harvest, they receive weekly in-season produce and are invited to learn more about how their food is being produced locally. 
Our food production practices differ greatly from techniques used on conventional farms that produce the food you see at the grocery store. As a community of land-stewards, we recognize the importance of incorporation conservation and land-stewardship practices into our crop planning and we practice chemical-free techniques that replenish and restore the earth.
BUY NOW